Air fryer Christmas dinner | Slimming World Blog
Have you put an air fryer on your Christmas wish list? Well, if you do find one under the tree on Christmas morning, you can put it to good use straight away.
With turkey steaks and stuffing wrapped in bacon, plus roast potatoes and the obligatory sprouts, this delicious air fryer recipe is ready in just 45 minutes – giving you the gift of less time spent in the kitchen and more time enjoying your special day. Winner, winner airfryer Christmas dinner!

Slimming World air fryer Christmas dinner recipe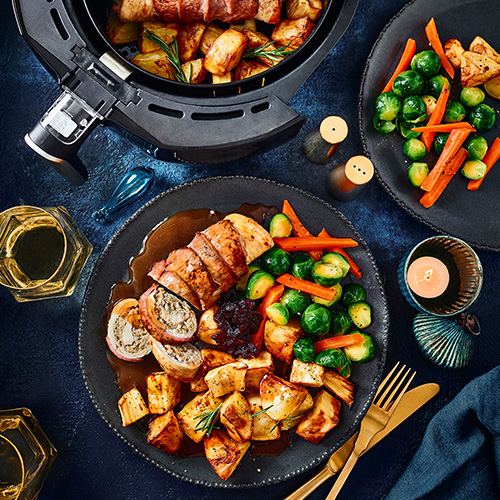 serves 2
3 Syns per serving
ready in 45 minutes
What you need:
2 medium floury potatoes, such as Maris Piper or King Edward, cut into bite-size chunks
2 medium parsnips, cut into bite-size chunks
a few fresh rosemary sprigs or sage leaves (optional)
low-calorie cooking spray
2 lean turkey steaks, visible fat removed
2 Slimming World Pork Sausages (available from Iceland)
½ tsp dried sage
½ tsp garlic granules
4 lean bacon medallions, visible fat removed
150g Brussels sprouts, trimmed
2 medium carrots, cut into batons
1 level tbsp chicken gravy granules
2 level tbsp cranberry sauce, to serve
What you do:
1. Preheat your air fryer to 200°C. Put the potatoes and parsnips in your air fryer and tuck in the rosemary sprigs or sage leaves, if using. Spray with low-calorie cooking spray and cook for 10 minutes, shaking the basket halfway.
2. While that's happening, put the turkey steaks on a board, cover with cling film and bash with a rolling pin to flatten them slightly (it's a great way to work off any pre-Christmas stress!). Squeeze the sausage meat out of the skins into a bowl, add the dried sage, garlic granules and some seasoning and mix well. Squidge half over each turkey steak and roll them up like Swiss rolls.
3. Put the bacon medallions on another board and cover with cling film. Flatten slightly with a rolling pin, then cut each medallion in half to make 8 strips. Wrap 4 bacon strips around each turkey roll to help hold the filling in place.
4. Remove the basket from the air fryer, shake the potatoes and parsnips again and top with the turkey rolls. (If you have a two-drawer fryer, you could cook the potatoes and parsnips in one drawer and the turkey rolls in the other.) Spray the turkey rolls with low-calorie cooking spray, reduce the heat to 180°C and cook for 20-25 minutes or until cooked through, turning the turkey rolls halfway.
5. About 5 minutes before the turkey is ready, cook the sprouts and carrots in a saucepan of boiling water over a high heat for 6-7 minutes or until tender. Make up the gravy granules with 150ml boiling water.
6. Divide the turkey rolls and all the veg between plates and serve with the gravy and cranberry sauce.
TIP: Slimming World sausages are Free and available from Iceland stores. If you can't get them, use another low-fat sausage and count any Syns. Slimming World members can use the barcode scanner or the Food Search tool on the app or website to look up any festive food on their Christmas menu.
More on the blog: Find out how to air fry everything, from boiled eggs to homemade chicken nuggets here
Coming soon… more brand-new air fryer recipes to add to the collection!