Cook, share and win! | Slimming World Blog
Free Food is the superhero at the heart of our eating plan, giving millions of slimmers the freedom to live the life they want, eat the food they love and still lose weight with Slimming World.
That's why we've planned a fabulous festival to show off the liberating power of Free Food in all its delicious glory – and we're inviting you to join the fun!
You can find out more about joining Slimming World here
What is Slimming World's Free Food Festival? 
If you're not already a Slimming World member, then February is an exciting time to join!
In the weeks beginning either 5th or 12th February (depending on your Consultant), all participating groups will be holding lively cook-off competitions, where members can share their own Free Food recipes and the groups vote for the winners.
We'd love Slimming World Online members to send us their Free Food recipes and foodie photos, too. We'll choose our top 10 dishes and invite members to vote for their favourites.
All group and online winners will receive a certificate and an exclusive tea towel. Best of all, they'll be entered into our national competition for a chance to win £1,000/€1,300 AND have their dish become part of the Slimming World food range at Iceland!
Discover our latest special offers to become a member and take part in our cook-off competition
Tell me more about Free Food 
The beauty of Free Food is that you can eat as much of it as you like, and new members are often flabbergasted to find out what's on the menu. As well as the usual suspects like fruit and vegetables (yes, including baked beans and potatoes!), you'll also notice that lean meat, meat replacements, poultry, eggs and fish are on the Free Food list – so that's your cooked breakfasts and Sunday dinners sorted. 
New members are also surprised by the fact that pasta and rice are not only allowed on the plan but completely Free – so you can pile that spaghetti high!
MORE ON THE BLOG:  
Fall in love with Slimming World Free Food 
Your 5 favourite Free Food recipes 
Discover last year's winner dinners  
With so many Free Foods to choose from, there's no end to the tasty dishes you could create for our cook-off. You'll pick up loads of fantastic Free Food swaps and mouth-watering meal ideas in our groups or online Community. Whet your appetite for what's to come by sampling the winning recipes from last year's Free Food Festival:
Nicky's one-pan chicken warmer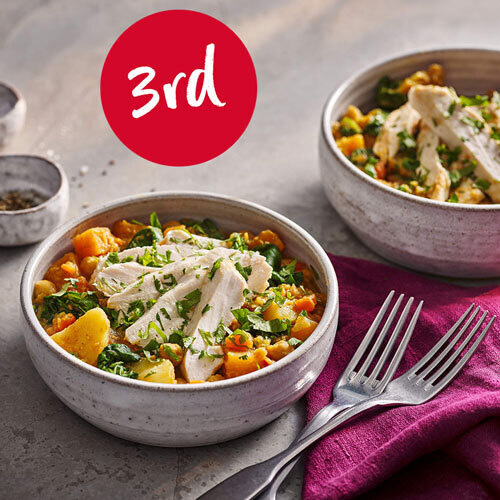 Third-place winner Nicky Robinson served up this super-satisfying dish – packed with lentils, chickpeas, root veg and chicken.
GO BACK TO YOUR ROOTS: Try Nicky's recipe
Marj's Moroccan butternut squash and sweet potato cakes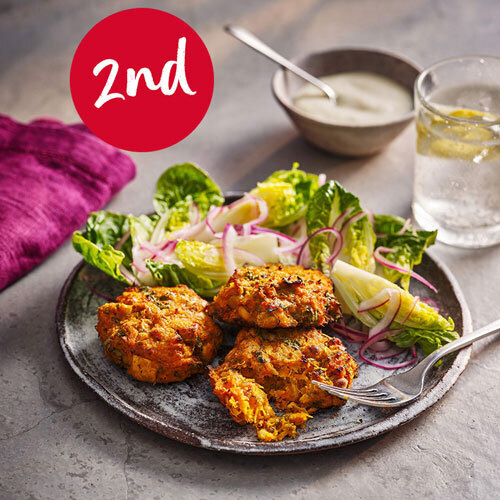 Marj Gonzalez bagged second place with these versatile vegan bites. They make a great dinner, lunch or brunch, and go with just about anything.
PLANT POWER: Try Marj's recipe
Jo's Moorish spiced chicken and aubergine rolls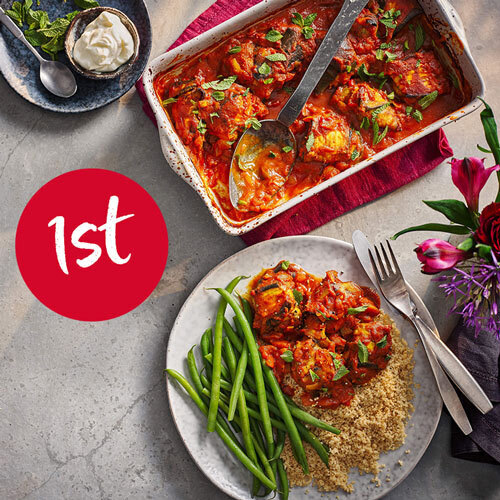 Jo Allford-Gretton claimed the crown with this melt-in-the-mouth dish made with fragrant spices.
WINNER DINNER: Try Jo's recipe
Cook, Save, Slim with Slimming World 
Batch cooking is just one of the genius cost-cutting ideas in our new cookbook. With more than 60 thrifty dishes, Cook, Slim, Save includes budget breakfasts, low-cost lunches, store-cupboard superheroes and fantastic fast feasts, to help you trim your food bill and lose weight – the tasty way! 
Find out how to get your FREE copy of our new recipe book here