Leftover turkey recipes (with video!)
It is the day after Christmas and families everywhere are facing a conundrum… what to do with all that uneaten turkey? Well, you can step away from the dry sandwiches because we've got two tasty leftover turkey recipes for you.
MORE ON THE BLOG: From delicious desserts to Christmas cocktails, we've got lots of ideas and inspiration to help make your festive season extra special.

Leftover turkey curry video
This leftover turkey recipe is completely Free on Slimming World's Food Optimising plan – so you can save your Syns for that selection box! Best of all, it's fuss-free and only takes 30 minutes to make – perfect for a relaxed Boxing Day when the last thing you want to do is spend ages in the kitchen.
Leftover turkey curry recipe
FREE
serves 4 
ready in 30 mins
What you need:
low-calorie cooking spray
1 large onion, roughly chopped
1 red pepper, halved, deseeded and thickly sliced
1 yellow pepper, halved, deseeded and thickly sliced
1 orange pepper, halved, deseeded and thickly sliced
1 level tbsp medium curry powder (members can check if their preferred brand is Free using the Food Search tool)
1cm piece fresh root ginger, peeled and finely grated
4 garlic cloves, crushed
400g can chopped tomatoes
200ml hot chicken stock
500g leftover lean turkey, skin and visible fat removed, cut into chunks
400g leftover potatoes, cooked without fat, cut into chunks
small handful of fresh coriander, roughly chopped, plus sprigs to serve
What you do:
1. Place a large non-stick frying pan over a medium-high heat and spray with low-calorie cooking spray. Add the onion and peppers and stir-fry for 3-4 minutes or until starting to soften and brown slightly. Stir in the curry powder, ginger and garlic, and cook for 1-2 minutes.
2. Add the tomatoes and stock, then bring to the boil over a high heat and bubble for 5 minutes.
3. Turn the heat down to low, then add the turkey and potatoes. After stirring, cook for 6-8 minutes to heat everything through.
4. Season lightly with salt and pepper, then top with the chopped coriander and add the sprigs to garnish.
Top turkey tip: If you prefer a creamier curry, sprinkle ground cumin or cinnamon over some fat-free natural yogurt and add a dollop when serving.
Leftover turkey pie video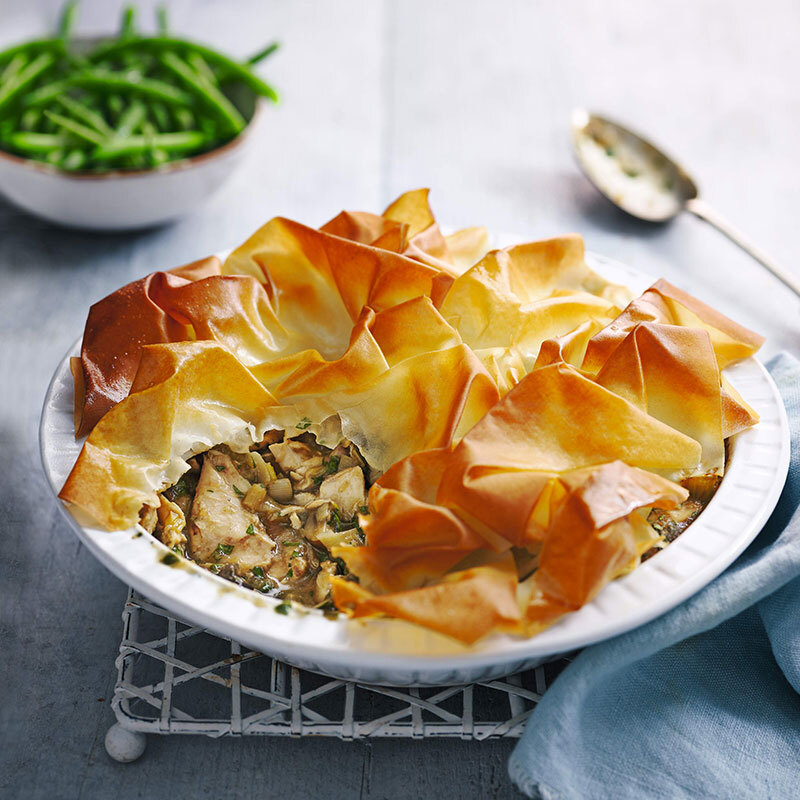 From the cosy filling to the satisfying crunch as you sink your serving spoon in, this dish is a real cracker in every sense of the word! 
Are you looking to make a slimming fresh start for 2023? Join a Slimming World group this new year and taste the freedom to lose weight without ever feeling hungry.