NEW! Valentine's sharing platter | Slimming World Blog
Valentine's Day doesn't have to break the bank. Our delicious platter is stacked with sweet treats, including fruit and marshmallows and a gooey chocolate dipping sauce, meringue kisses and cute jelly and yogurt hearts. It's the ideal date-night dessert or slimming-friendly snack to enjoy in front of a romantic movie. 
Get your free copy of our Cook, Slim, Save recipe book 
❤️ How to make your Valentine's grazing board ❤️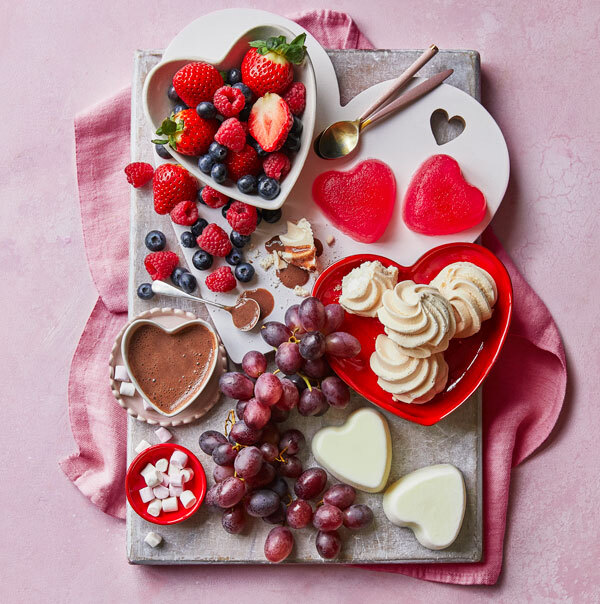 serves 2 
5 Syns per person 
ready in 20 minutes (make the meringues and hearts the day before to allow for setting/chilling time) 
Grab a platter (heart-shaped, if you have one) and pile it up with… 
your choice of fresh fruit – we used strawberries, raspberries, blueberries and grapes 
20 mini marshmallows 
4 meringue kisses (scroll down for recipe) or shop-bought mini meringues 
2 frozen yogurt hearts (made with fat-free natural yogurt and flavoured with vanilla extract) 
2 jelly hearts (made with strawberry-flavour sugar-free jelly crystals) 
chocolate dipping sauce (scroll down for recipe) 
More on the blog:  
❤️ Try this cupid-approved three-course menu 
❤️ New! A pink hot chocolate to warm you up 
Meringue kisses recipe 
makes 25 
1 Syn each 
ready in 1 hour 40 mins (plus 8 hours 30 mins cooling and chilling time) 
What you need: 
4 large egg whites 
120g caster sugar 
1 tsp cream of tartar  
1 level tbsp cocoa powder (optional) 
What you do: 
1. Preheat your oven to 110°C/fan 90°C/gas ¼. Line 3 large baking trays with baking paper. 
2. Put the egg whites in a large, clean glass bowl and beat with an electric hand whisk on a medium speed until they form stiff peaks. Turn the speed up to high and add the sugar a spoonful at a time, whisking for 3-4 seconds between each spoonful; when all the sugar has been added the mixture should be thick, glossy and smooth. Quickly whisk in the cream of tartar and cocoa, if using, until well blended. 
3. Fit a piping bag with a fluted nozzle then fill with the meringue. Pipe 50 x 2cm-diameter meringues onto the prepared baking trays, leaving 1cm between each one. 
4. Bake for 40-50 minutes, or until crisp. Transfer to a wire rack and leave to cool completely. 
Chocolate dipping sauce recipe 
serves 2 
3 Syns per serving 
ready in 15 mins 
What you need: 
1 level tbsp cocoa powder 
2 level tsp cornflour 
2 level tsp sweetener granules 
200ml plain and unsweetened almond milk  
What you do: 
1. Mix the cocoa powder, cornflour and sweetener with a splash of the almond milk to make a smooth paste. Gradually whisk in the rest of the almond milk, then pour it into a small non-stick saucepan.  
2. Warm the chocolate sauce over a very low heat, stirring continuously, until it's steaming and thickened but not boiling. Pour into a small bowl to serve. 
More for members: 
They say that the way to the heart is through the stomach – and we've got lots of slim-safe ideas to tickle your fancy;
❤️ 10 most-loved romantic recipes – revealed! 
❤️ Delicious date-night dinners 
❤️ Quiz: Match up our made-for-each-other food pairs 
Recipes for every occasion 
When you become a Slimming World member, you'll unlock our collection of more than 1,800 Food Optimising recipes – with even more inspiration and slimming strategies for seasonal celebrations and special occasions in group and on Slimming World Online. Join this week and you'll find a gorgeous gift waiting for you as well – a free copy of our brilliant new budget-friendly recipe book, Cook, Slim, Save!